This is your playgound. Lake Charlevoix, voted the second best lake in the US in a 2012 USA Today poll, and Lake Michigan beyond are true world wonders. It doesn't get any better than this!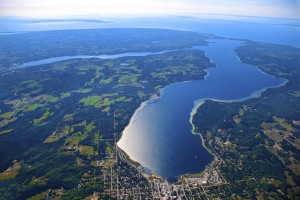 Both Lake Charlevoix and Northern Lake Michigan are world famous tourist destinations and for good reason.  With the beauty and clear water of the Caribbean, but unsalted, Lake Charlevoix and the area makes an awesome summer playground.  Sailing in the protected waters of Lake Charlevoix is perfect for those seeking a relaxing time on the water.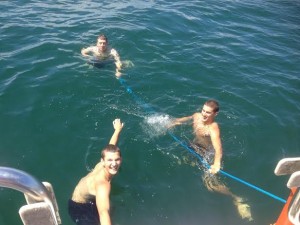 Anchoring in a secluded bay for lunch and a swim is a popular option.
The sailboat Pure Mish is kept at Sommerset Pointe Marina and Yacht Club (SPYC), which is on the south shore of Lake Charlevoix, just a mile from Boyne City.  SPYC is a well protected, state of the art facility with an onsite bath house and a sandy beach, both just a short walk from the slip.  The Porter Creek Fish House restaurant, with a large deck overlooking the marina, is a great place for dinner and drinks either before or after your day on Lake Charlevoix. Click here to see the location of Pure Mish at SPYC.  http://goo.gl/maps/yFmOa
For those seeking more adventure, Lake Charlevoix provides the unique option of direct access to Lake Michigan.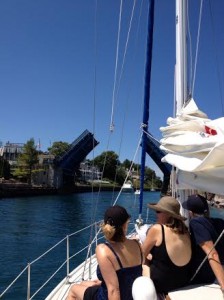 Northwest Michigan is home to many wonderful waterfront towns to visit.  All within a day's sail from Charlevoix are Elk Rapids, Northport, Sutton's Bay and Leland to the south and west and to the north are Beaver Island, Bay Harbor, Petoskey and Harbor Springs.  Other destinations requiring multiple day trips include Traverse City, Mackinaw Island and others.  Each summer a few one-way trips are scheduled to these more distant ports. These trips will be posted soon, both here and on Facebook.com/PureMish.  Please post below if you would be interested in a longer, one-way trip. I will be arranging those soon.
Map and Descriptions of Ports to Visit – Plan Your Own Custom Trip
The points on the map at this link http://goo.gl/maps/mOT1S show some port towns, and associated sailing distances, that you may want to visit during your Pure Mish Sailing Adventure.